40th Anniversary Autumn Reunion

Register Now!
Schedule of Events
Friday, September 24th
8:00 AM – 12:30 PM
Members-Only Case Factory Tours
11:00 AM – 3:00 PM
Event Activities on Zippo/Case Museum & Flagship Store Grounds
3:00 PM – 8:00 PM
Grand Collectors Dinner Auction
Saturday, September 25th
8:00 AM – 4:00 PM
Event Activities on Zippo/Case Museum & Flagship Store Grounds
Since its inception in 1981, the Case Collectors Club® has strived to be a premier association for knife collectors and enthusiasts, providing thousands of members with exclusive access to exclusive limited production items, first-look previews of new collections, and a behind-the-scenes glimpse into the world of Case® knives. W.R. Case & Sons Cutlery Company proudly celebrates the 40th Anniversary of the Case Collectors Club® with a two-day event hosted at the Zippo/Case Museum & Flagship Store located in Bradford, PA. We look forward to this opportunity to express our appreciation for your commitment to our company and brand.
Please review the enclosed registration materials carefully. There is a great deal of information and numerous events taking place. As more event details are finalized, we will share them on casecollectorsclub.com, and on the Case Knife Forum. We hope to see you in Bradford, PA, on September 24th and 25th for a weekend of fun, excitement, and lots of memories for the whole family!
Event Highlights
CCC® Members Only Case Factory Tours
Case® knives are still made in Bradford, PA, just as they have been for more than a century. Every step of the way, there's a hardworking American involved. One of the benefits of being a member of the Case Collectors Club® is the exclusive Members-Only Tour of the Case factory. Tours will be offered from 8:00 am – 12:30 pm on Friday, September 24th. Each member may tour the factory one (1) time during the day. Visitors must be at least 12 years of age. Tour slots are limited and will be scheduled on a first-come basis. Your safety is most important while walking through the factory. Participants must be in compliance with Case safety guidelines that will be shared closer to the tour date. Remember, open toe and open heel shoes, cell phones, cameras, and pets are not permitted in the building.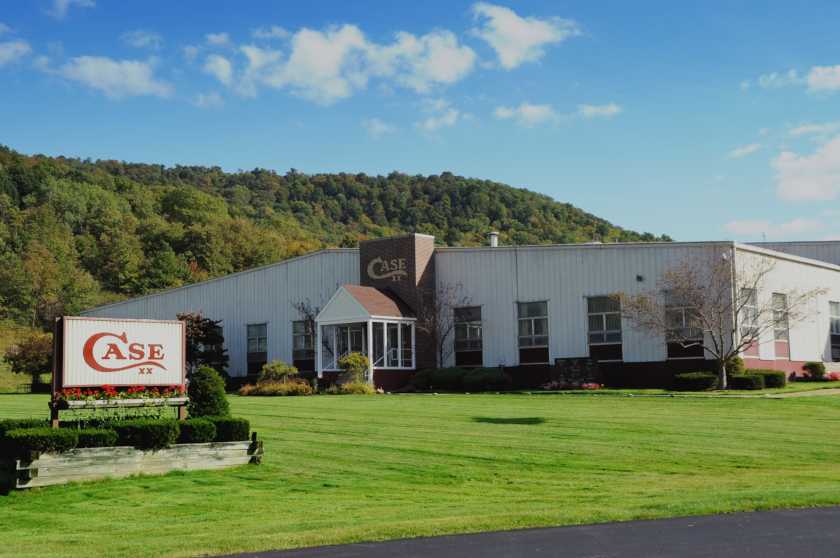 Grand Collectors Dinner Auction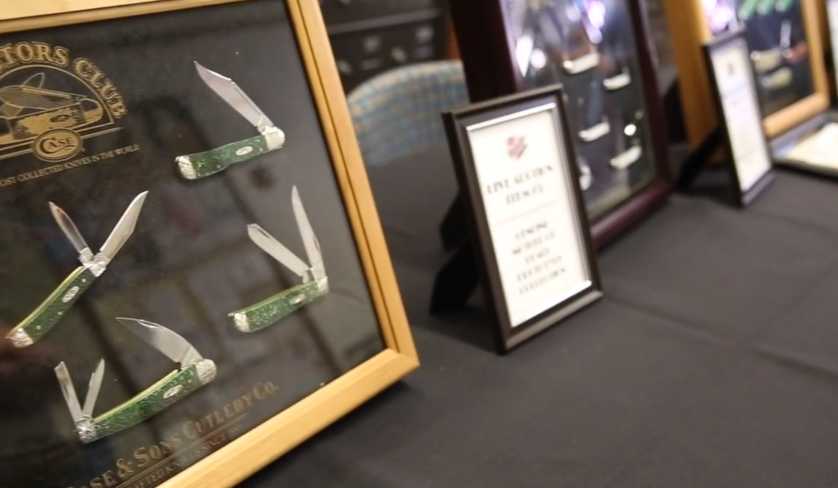 Going once! Going twice! SOLD! Pre-registered Auction guests are invited to participate in the Grand Collectors Dinner Auction hosted on Friday, September 24th. Guests can bid on a variety of items and take home unique one-of-a-kind knives. We will begin accepting bids on silent auction items at 4:30 pm. The live auction begins at 7:00 pm where more than twelve (12) items will go up on the auction block. The auction will be fast and furious as the highest bidder leaves with a real treasure. A mouth-watering chicken BBQ with seasonal vegetables and desserts will be served prior to the live auction. Pre-registered guests must present a ticket to enter the dining area.
Collector Knife Swap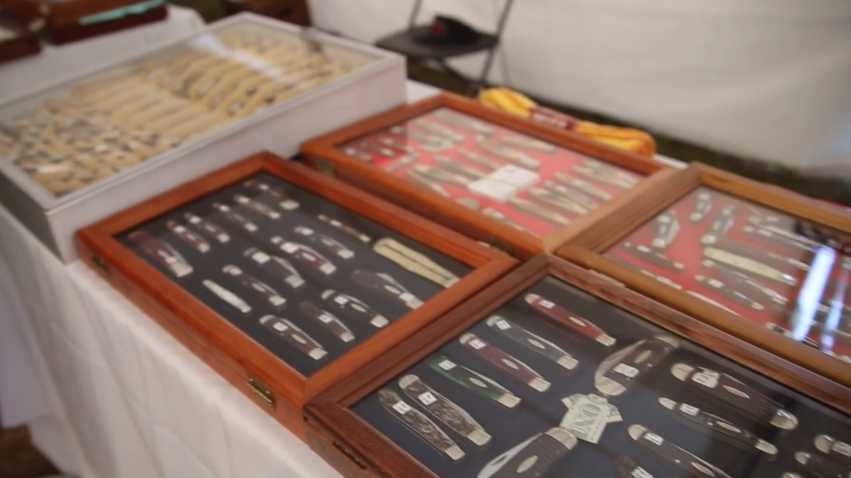 The Collector Knife Swap has always been a favorite part of our events. Beginning at 8:00 am Saturday, September 25th, guests can get a firsthand look at some unique collectables while talking to knowledgeable folks about what to look for when buying a knife. Bring along your prized possessions to see what their value might be, and you might even find a collector interested in your offerings. NEW this year, collectors who wish to participate in the Collector Knife Swap will pre-register for a spot on the event grounds, instead of one large tent. This allows collectors to set up their area as they wish and gives each exhibitor more space. Each spot will be able to accommodate a 10x10 pop-up tent (you are responsible for bringing your own tent, tables, chairs, etc.). Space is limited and spots will be reserved on a first-come basis. Collector Knife Swap Exhibitors will be permitted to begin setting up their spots at 7:00 am on Saturday, (vehicles will not be permitted to drive into the Collector Knife Swap area). The event grounds will be open to the public beginning at 8:00 am. We ask for compliance in featuring only Case® knives and accessories, as well as Zippo® lighters and collectables.
Event Commemoratives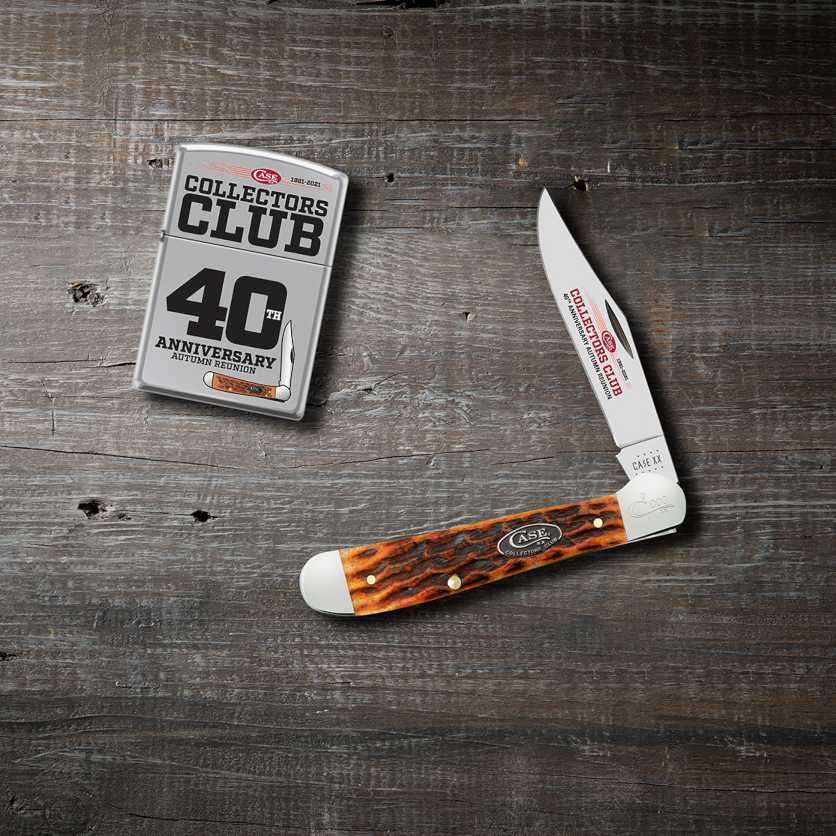 Event attendees are eligible to pre-order one (1) Event Commemorative Knife and/or one (1) Zippo lighter, reserved on a first-come basis. Payment is due at the time of registration. Commemoratives can be picked up beginning Friday, September 24th, at the Zippo/Case Museum event grounds. You must be present at the event to pick up your own collectables. Unclaimed items will be sold on a first-come, first serve basis on casecollectorsclub.com after the event.
Knife Features: Heritage Jigged Autumn Bone Copperhead (6149 SS) • Embellished Tru-SharpTM surgical steel Clip Blade • Case Collectors Club® Oval Shield • Case "Long Tail C" Serialization • Certificate of Authenticity • Velvet Keepsake Box • Limited to 250 pieces
Lighter Features: High Polish Chrome Zippo Lighter • Event Logo Artwork • Consecutive Serialization • Two-Piece Box
Consumer Event Tour Stop
On Saturday, September 25th, the Zippo/Case Museum & Flagship Store will be hosting an official 2021 Tour Stop. The 'Better Together' Sway Back will be available for sale beginning at 8:00 am sharp! Each knife features embellished Smooth Natural Bone handles, unique scrolled bolsters and consecutive serialization. Knives will be sold on a first-come basis.

Case® Knife Sharpening and Polishing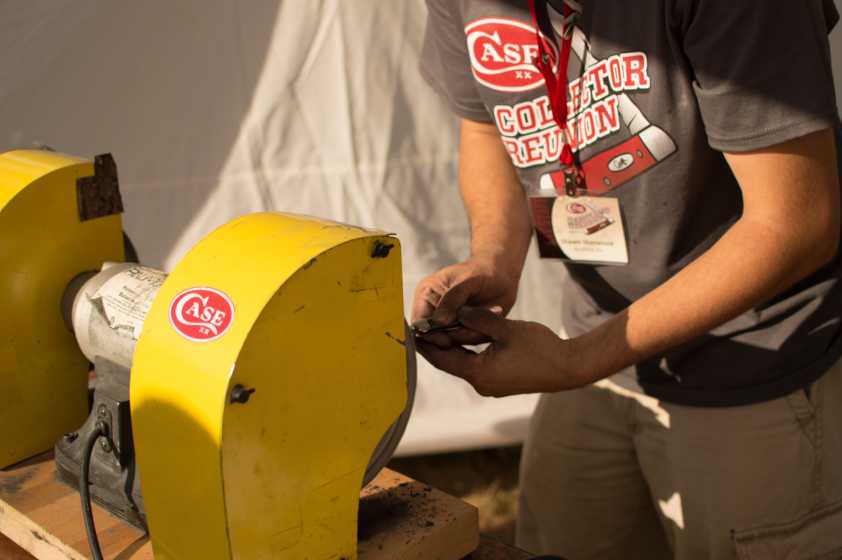 If you have a Case® knife that needs sharpened or polished, Case Artisans will skillfully transform your knife into one that looks and performs as though it was just taken out of the box. Stop by and say hello to these amazing folks, who are thrilled to be celebrating the 40th Anniversary of the CCC® with dedicated Club members like you.
Register Now!